Kasey Bell is an award-winning digital learning consultant, national speaker, and blogger with a passion for technology and learning. Kasey offers engaging professional learning experiences for all levels of educators, specializing in training, presentations, keynote speaking engagements, and consulting. As a skillful facilitator, Google Certified Innovator, Google Certified Trainer, and Amazon Education Thought Leader, Kasey has led a variety of digital learning workshops, including presentations at ISTE, FETC, TCEA, Google Summits, and iPadpalooza. Kasey is the author of The Teacher's Guide to Google Classroom, and co-host of The Google Teacher Tribe Podcast. Kasey received a Digital Innovation in Learning Award given by EdSurge and Digital Promise, in the "Sharing is Caring," category, and she was recognized as one of 20 TrustED educational thought leaders, as well as the #3 EdTech and E-Learning Influencer on Twitter.
---
Kasey's website and blog, ShakeUpLearning.com, provides teachers and educators with digital learning resources, tech tips and tricks, classroom technology integration ideas, as well as in-depth e-courses and e-books. Here you will find great resources for Google apps, including guides and cheat sheets, mobile learning and apps, iPad tips, and social media tips for educators. Shake Up Learning, was recognized as a Must Read EdTech Blog, and an Edublog Awards Finalist. As a blogger, Kasey uses her blog to create and share original technology integration ideas, resources, ebooks, online courses, cheat sheets, and more!
Connect with Kasey Bell on About.me
Connect with Kasey on social media using the icons below.
---
18 Challenges for Teachers in 2018 FREE eBook!
Get the FREE eBook: 18 Challenges for Teachers in 2018! Simply fill out this form and we will send you the 83-page PDF ebook.
Search Shake Up Learning
Resources
Join the newsletter
Subscribe to the latest goodies from Shake Up Learning by email.
Categories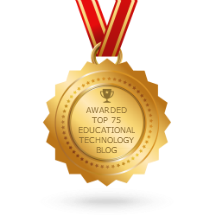 Recent Comments
Archives